Home

/

How to Create Community Records
How to Create Community Records
Community Records
allow for a greater range of information to be shared about a digital heritage item. Community records can be used for a number of different purposes, for example, preserving an institutional (library, archive, museum) record while enabling community members to add their own knowledge to the item; allowing members of multiple communities to share their own information without having to edit or erase other community members' contributions; or sharing select metadata fields with different communities to help promote appropriate access to knowledge.
When a community record is created from a digital heritage item, they are displayed together, and they share the same media asset, but the rest of the metadata is completely independent. Community records can have different sets of cultural protocols from the parent record, which can be an effective tool to ensuring select metadata fields are shared with the right people.
In the two sample images below, the first shows some of the metadata that is part of a university library record…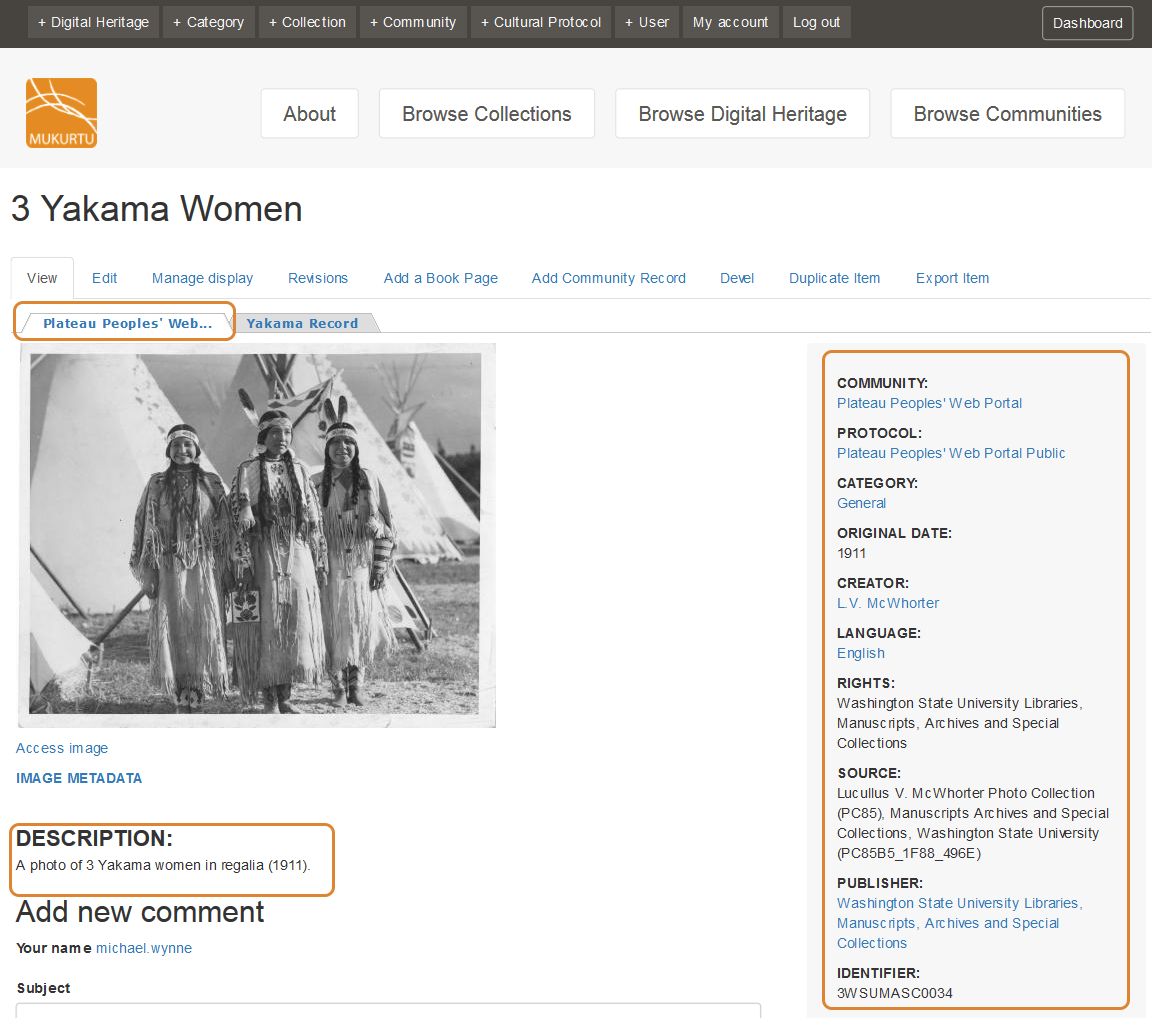 And the next image shows a community record on the same digital heritage item. The media asset (the image) is shared, but many of the metadata fields are entirely different, or include different content.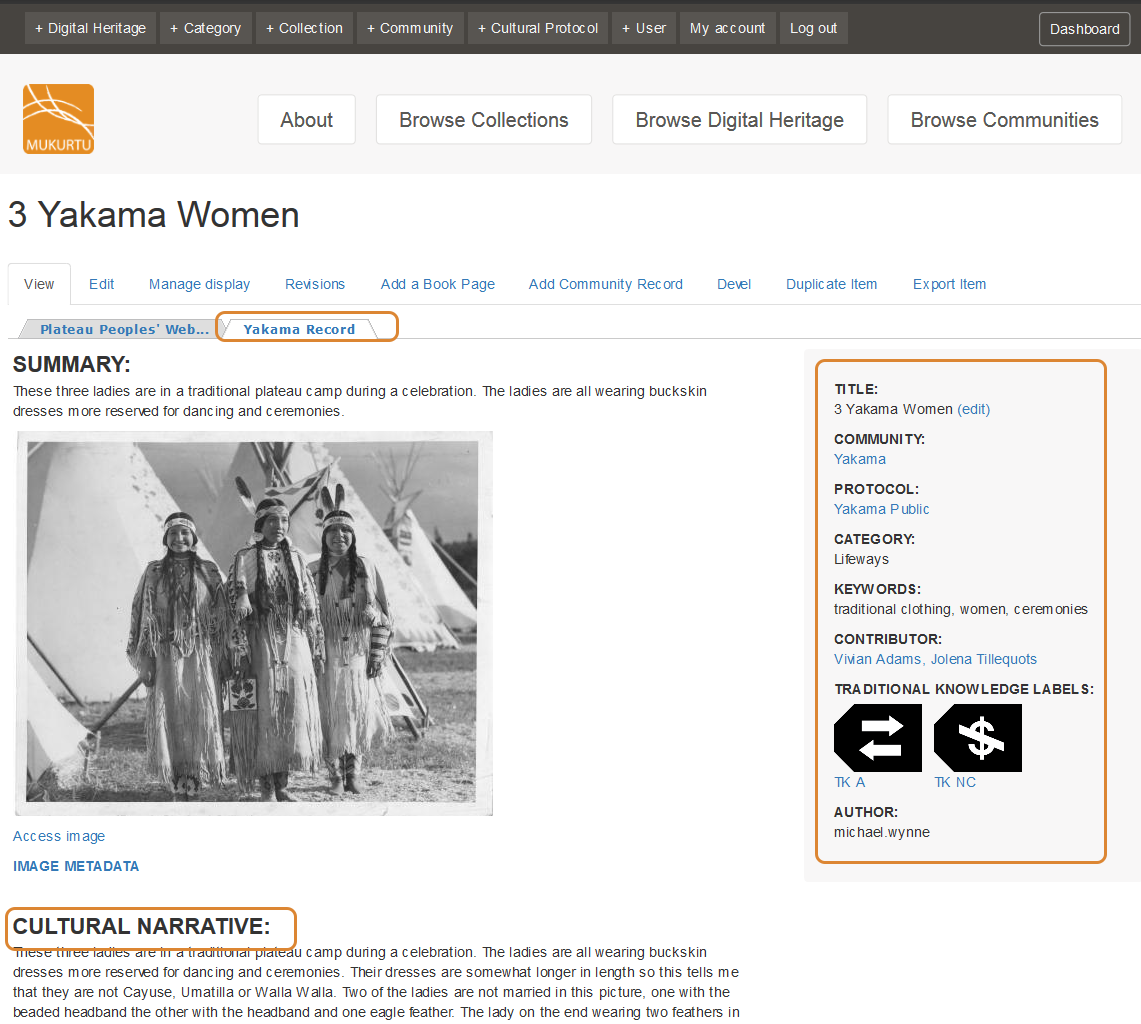 To add a community record, a user must be a Protocol Steward of at least one of the cultural protocols of the digital heritage item of interest. Note that even though each community record may have it's own set of cultural protocols, a user must be able to access the parent record in order to view it's community records. If multiple strict community records are going to be used, it is best practice is to make the parent record the most public. Multiple community records can be added to a digital heritage item.
To add a community record, navigate to the digital heritage item and click
Add Community Record
.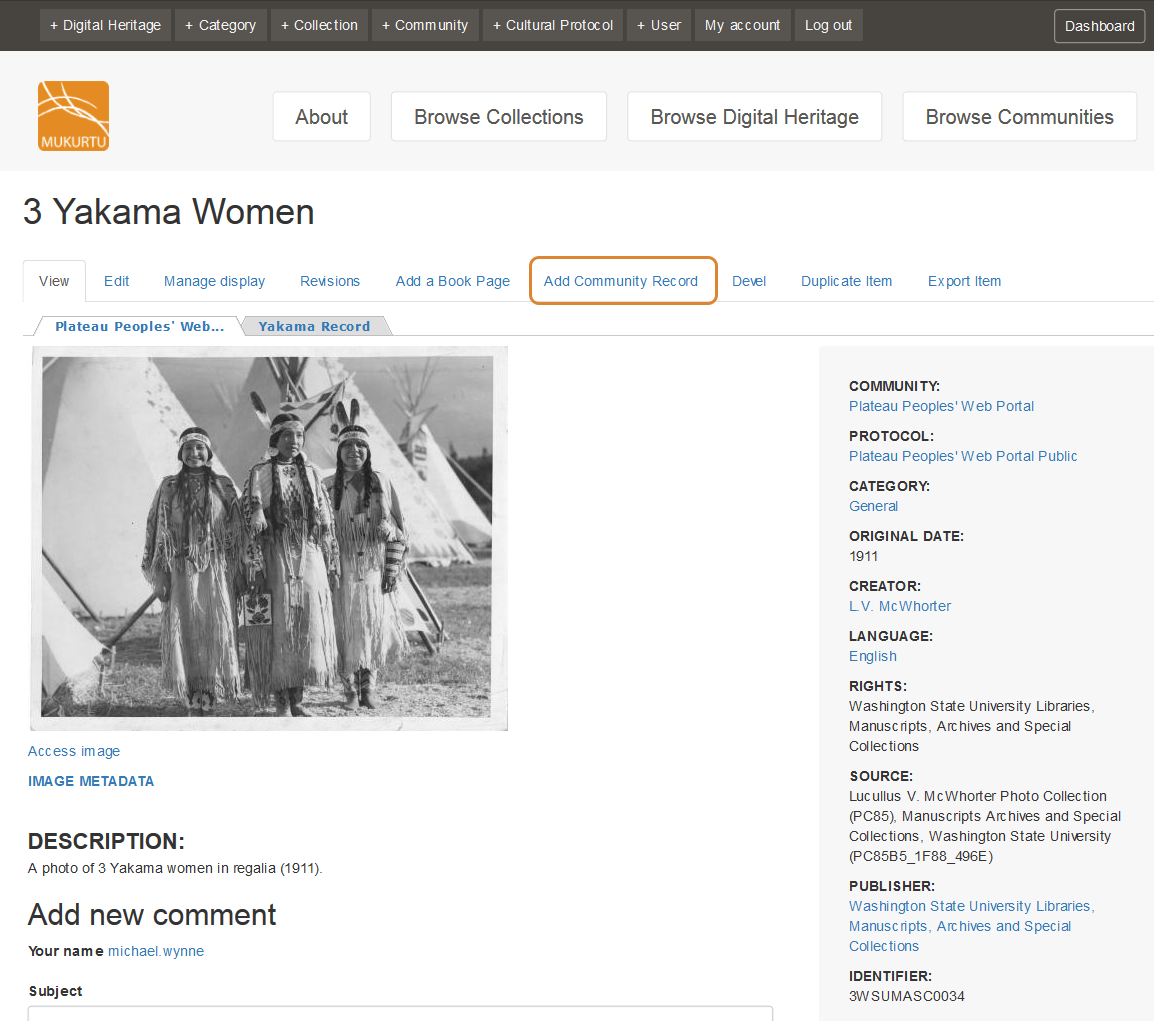 All the same fields that are required when creating a digital heritage item are required here:
Title, Community, Cultural Protocol, Sharing Setting,
and
Category
. The only difference between completing a community record and a digital heritage item is that there is no media asset field in community records. When community record is complete, click
Save
.
To learn more about metadata fields for community records, read the support article
How to create Digital Heritage Items
.
Other than media assets, all other fields are the same as a regular digital heritage item.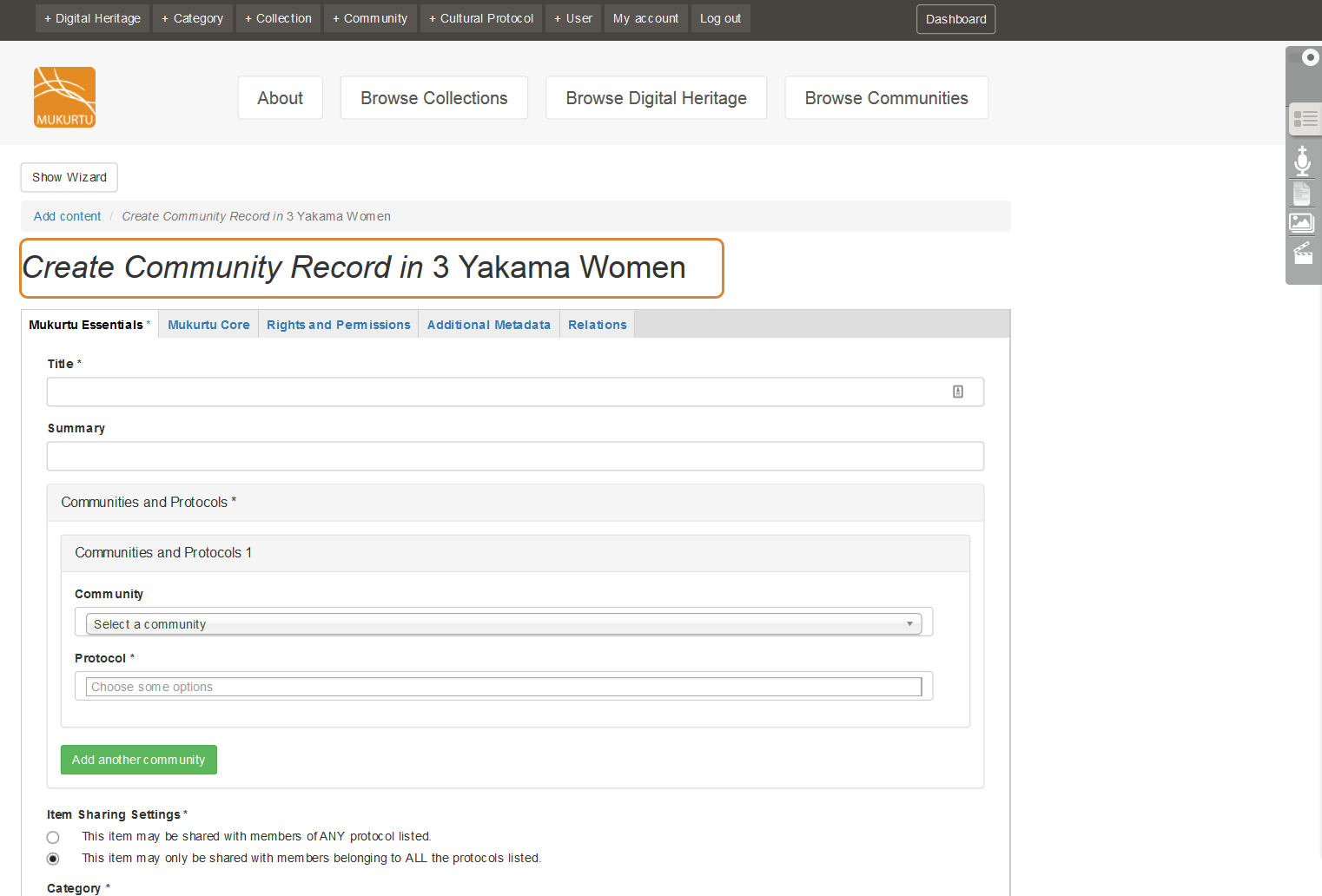 To edit a community record, do not use the large edit button below the title: that only edits the parent record. Navigate to the community record to be edited, and click the small (
edit
) link next to the community record title.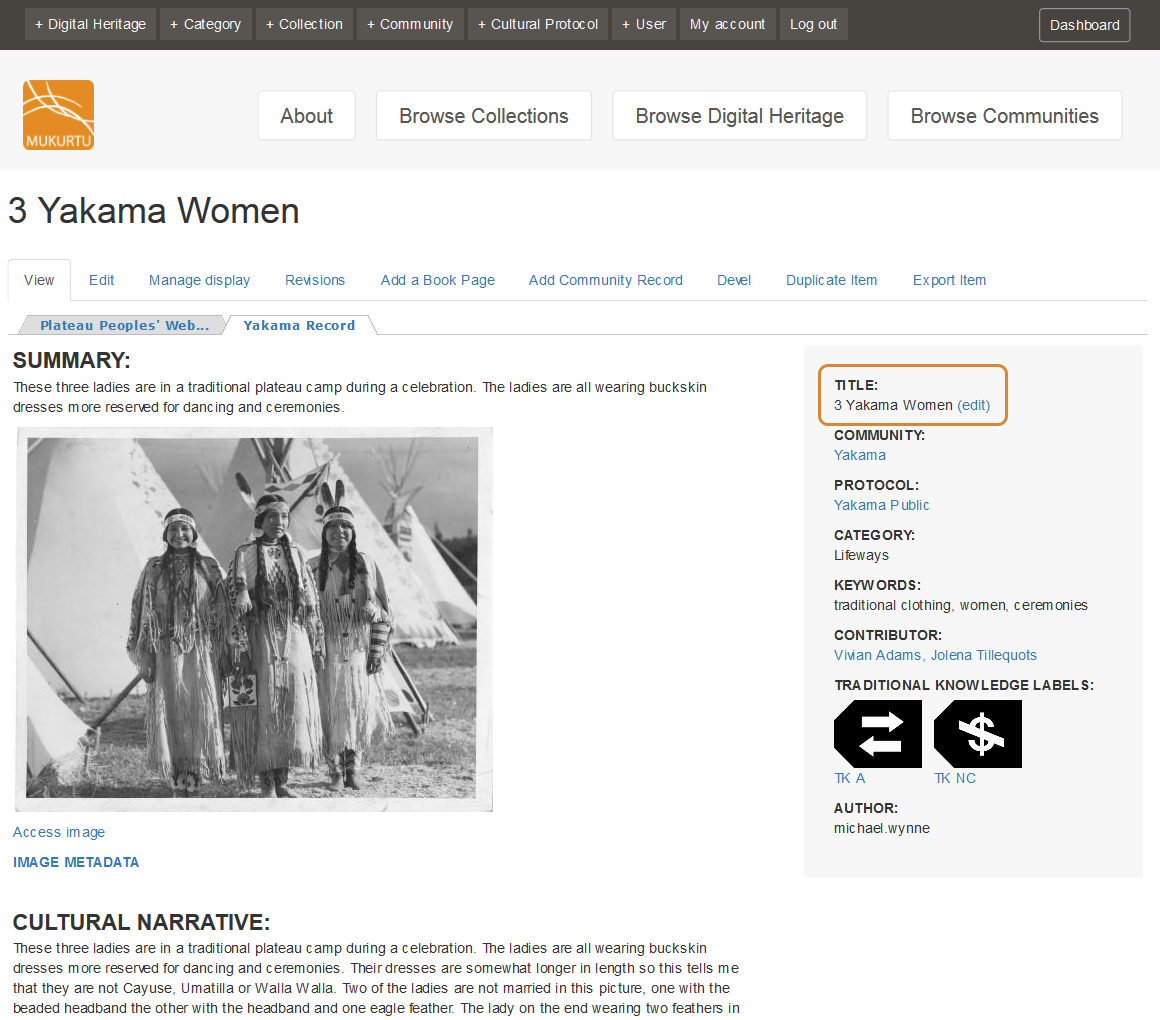 For more information about working with community records, read the support article
How to use Duplicate and Community Records to manage access
---
Contact Us